Visas
Using a qualified and experienced migration agent to prepare your application can significantly increase your chances of success.
We have detailed expertise in preparing applications for all classes of Australian immigration visas, including:
Spouse Visa & Intended Marriage (Fiancee) Visas
Business Visas
Student Visas and Parent Visas
Regional Skilled Migration
Sponsored Migration & Retirees
Phone/email us for an appointment or further information.
eVisa Applications
We are registered with DIMIA as a Trusted eVisa Agent.
Applications can be lodged electronically over the Internet.
Our Advantage
When you use Benson & Clayton to apply for your visa, you can be confident that your matter is being handled by qualified and experienced personnel.
The firm keeps a comprehensive electronic database of all Department of Immigration forms and Regulations which is regularly updated.
This firm attends Continuing Legal Education seminars and conferences to keep pace with the constant changes to Australia's Immigration laws.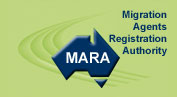 The code of conduct for Australian migration agents can be downloaded
here